Best April Fools Messages for Husband
Best April Fools Messages for Husband : The relationship between a husband and a wife is always very special. It is a beautiful blend of romance, friendship and affection. This April Fool's Day (अप्रैल फूल दिवस)surprise your dearest husband by sending a unique and funny April fool text message on Whatsapp and facebook. Tease him using these wonderful lovely April Fool quotes given below which are surely going to make him smile.
READ ALSO : April Fool Pranks For Wife
April Fools Day Messages – Best April Fools Pranks for Husband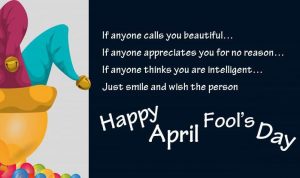 You are handsome, smart, and witty. But I have a better sense of rumor than you. April foods day wishes to you dear husband.
A research revealed that a fool uses his thumb to browse messages. Don't try to change the finger. Too late. Happy Fools day
It is next to impossible to make anything fool proof from you. Happy fools day dear husband.
A fool is always right. I have decided not to argue with you
I dreamed of an intelligent man, got one who thinks he is intelligent. Happy April fool day dear husband.
You are the most handsome, intelligent and smartest man in the world. And I am the one who is spreading this stupid rumor my love.
Your presence is my life is the most important thing to me. I can feel you every moment with me, always. I think you have got it all wrong, I was talking about Oxygen, as it gives me life!!!
They say everyone has its day and today is your day…. yes my darling husband it's your unofficial birthday today and we are going to have a blast. Happy April Fool's Day to you.
According to a recent study, all fools use their thumb to read an SMS and all those who try to change their fingers are all the more bigger fools. I think I just caught one fool right now.
Ek baar ek bandaron ka group jungle se bhaag gaya. Ek Bandar pizza khata pakda gaya, ek chori kart hua and teesra Bandar dhyan se ye message padhta hua.
Use these wonderful sample text messages to wish your husband Happy Fool's Day in the most unique and smart way.
READ ALSO : Best Advance April Fool Messages 2022
READ ALSO : Best April Fools Messages for Couples
READ ALSO : April Fool Messages for Whatsapp
April Fools Jokes for Husband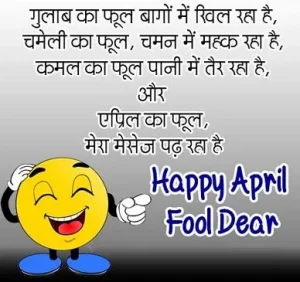 Babies born on March 31st are the easiest to fool as they are born so close to April Fools Day.
I think I was really stupid enough to say a yes to you marriage proposal you made to me on April 1st.
Marriage is like the biggest prank because everything turns out to be just the opposite. Happy April Fools Day.
I think I was so foolish that I got into the institution of marriage to raise a man who is still a child. Happy April Fools Day. Every year April Fools Day is my birthday as I was foolish to fall in love with someone who is so crazy but yet so amazing.
Best April Fools Messages for Husband
READ ALSO : April Fool Messages for Friends and Relatives
READ ALSO : Whatsapp Prank Messages for Friends
READ ALSO : April Fool Day Messages for Lover