Navratri 2022 Messages for Sister: The festival of Navratri is celebrated with great enthusiasm in the country. On this occasion, Mother Durga is seated in every house and her devotees keep fasting and worship for nine days. Durga Puja pandals are decorated at many places.
When the festival of Navratri begins, people send messages of Navratri greetings to their acquaintances and relatives. In this way, you can also send congratulatory messages of Navratri to your friends and relatives through messages.
Happy Navratri 2022 Wishes for Sister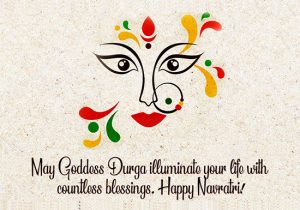 You are the avatar of Mata in my life because you have always brought along so many reasons for me to smile…. I wish you a beautiful Navratri and a prosperous year ahead.
My dear sister, you are like a sweet blessing from Maa Durga in my life….. I wish you a very Happy and blessed Navratri with love of Mata.
I wish that Maa Durga is always by your side, in your happiness and in sorrows, in your success and in your failures to help you going and finally walk the path of success….. Happy Navratri.
Happy Navratri 2022 Message for Sister
Navratri reminds us of the power of women and I wish my sweet sister a Happy Navratri 2022.
As we celebrate Navratri, I wish you vivacious and vibrant nine nights of garba and festivities to brighten your future….. Best wishes on the occasion of Navratri to you my sister.
On the occasion of Navratri, I wish the best of everything for you from Maa Durga because you have always been the best sister a brother could ask for….. A very Happy Navratri to you.
Happy Navratri 2022 Quotes for Sister
May Navratri be full of brightness and happiness for you….. Happy Navratri to you.
Let us celebrate the festival of Navratri with great zeal and enjoyment with people we love.
Walk up the ladder of success with the blessings of Maa Durga this Navratri.
To the sweet sister, I wish you the choicest blessings of Mata on the occasion of Navratri.
Navratri 2022 Greetings for Sister in Hindi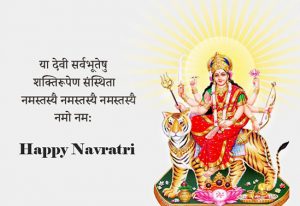 Maa Durga, Maa Saraswati, Maa Laxmi ka sada bana rahe tum par ashirvad aur Navratri ka ye tyohar lekar aaye tumhare liye khusihyan hazar….. Navratri ki badhaiyan.
Navratri ki dhoom machi hai…. Har or chhai hai masti….. Rang jao tum bhi is Navratri ke Mausam mein aur paa lo Mata ka ashirvad apne sukhad Jeevan ke liye.
Tum sirf meri behen nahi balki tum Maa Durga ka avatar ho jisne mere Jeevan mein aa kar khushiyan hi khushiyan bikher de hain…… Happy Navratri to you.
Navratri ke is sundar mauke par bhej raha hu dher saara pyaar aur Maata ka ashirvad jo phale phule aur lekar aaye dher saari tarakki apne saath….. Navratri ki badhaiyan.
Navratri ka tyohar hai aaya aur saath mein khushiyon ki bahar hai laya….. har din ek nayi umang laye aur saath mein tumhare liye nayin manzilein bhi laye….. Navratri ki dher saari badhaiyan.
Read Also: Ram Navami 2022 Wishes for Friends