New Year Messages for Family and Friends : The new year brings with it new zeal, enthusiasm and energy, which inspires us to forget the old forgotten things and adopt new ideas. In the excitement of the new year a person sets his life goals and tries to adopt them in his life.
Happy New Year 2022 Messages to Family and Friends (New Year Messages for Family and Friends)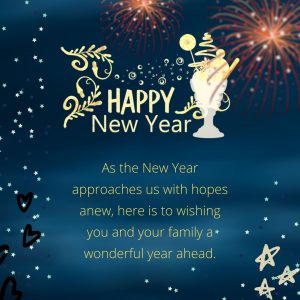 As the clock is all set to strike 12, I am sending my best wishes in the envelope of love… I wish that the upcoming year bring lots of happy news to you… May all your dreams come true and may smile on your face never fade… Have a prosperous and Happy New Year.
A good company makes a year special… with such a wonderful company I can never have a bad year…. I wish you all a cheerful, exciting and glorious year ahead and with me in your lives, you will surely have a great year…. Happy New Year to my dearest family members.
It is time to bury the dead and wait for what lies in future… wait for the mystery to unfold and enjoy a beautiful time with your loved ones…. I wish that you are blessed with happiness and health smiles and liveliness in this coming year… Wishing you a wonderful New Year my friend.
Let us leave behind all the sorrows, problems and bad experiences as we are all get to enter the New Year… Let us there be only happiness and joy, harmony and peace to brighten each and every day…. Wish you lots of prosperity and success… Wish you a Happy New Year my dear.
May the coming year bring along a year of happiness and amazing experiences for you… May every day have something new to offer…. May there be brightness and hope… May there be smile and blessings… Wishing you a very prosperous and Happy New Year my friend.
Happy New Year 2022 Wishes for Family and Friends (New Year Messages for Family and Friends)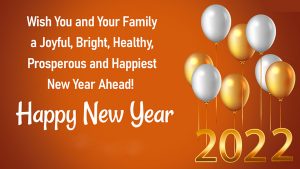 New Year is the time to thank your loved ones for making it a special one for you for expressing your love and feelings to your dear ones and to celebrate this wonderful time with people who mean the world to you… Make the most of this occasion… Wishing you a Happy New Year.
New Year celebrations are incomplete without warm wishes and hugs… Therefore I am sending my share of love and wishes to my dearest family… May we are blessed with joy and harmony, togetherness and prosperity… Wishing you all an amazingly good Happy New Year.
May your entire problems and sorrows end with the end of this year and all your joys and happiness multiply with the beginning of New Year… I am sending you bundles of good fortune and loads of hugs to wish you a warm and wonderful New Year… May God bless you.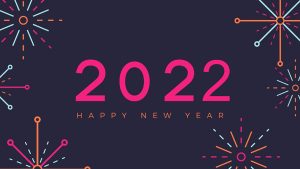 May this New Year be the brightest and happiest. May this New Year be full of celebrations and good times. Happy New Year to my family and friends.
No year is complete without the love, affection, care and good times with family and friends. With lots of love, wishing a very Happy New Year to all.
Let us end this year by forgetting bad experiences and forgiving people who have hurt us and let us hope to experience moments of happiness and joy and togetherness with people we love… With such a thought, I send you best wishes on New Year.
Ye nav varsh le kar aaye dhero khushiyan aur harazon sapne aapke aur aapke parivar ke liye, jo bhar dein aapka jeevan nayi aashaon ki kirano se… isi manokamna ke saath Mubarak ho naya saal jo barsaye aap par nayi bahar…. 2022 ka saal aapke liye ho ek naye jeevan ka aagaz.
Read Also : Parsi New Year Wishes 2022
Read Also : Merry Christmas Wishes in Hindi
Read Also : Christmas Wishes for Grandparents In English
Read Also : Instagram Captions For Hanukkah 2021
Read Also : Human Rights Day Messages 2021