New Year Messages 2022 For Friends: The new year brings with it new zeal, enthusiasm and energy, which inspires us to forget the old forgotten things and adopt new ideas. In the excitement of the new year, a person sets his life goals and tries to adopt them in his life.
New Year Prayer Messages for Friends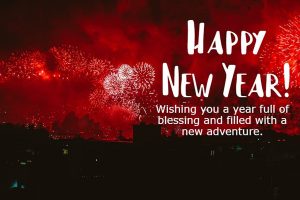 May the occasion of New Year answer all our prayers and bring positivity in your life. Happy New Year to you.
On the occasion of New Year I wish your life is surrounded with brightness and happiness. Warm wishes on New Year to you.


New Year's Eve Messages for Friends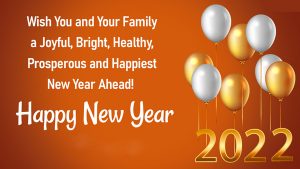 Wishing a cheerful and vibrant New Year's eve to you my friend. May you enjoy the celebrations and welcome the upcoming year with high spirits.
On the occasion of New Year's eve I wish that you make the most of the last day of this year. Have a fabulous and festive New Year.
Happy New Year Messages and Wishes For Friends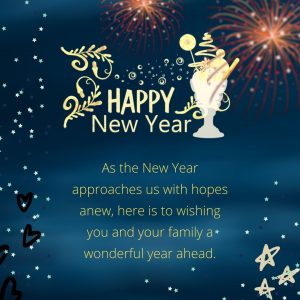 As the New Year is about to knock on the doors, it is just the right time to begin the celebrations. Happy New Year my dear friend. Let's party and welcome the new times.
I wish God to shower his blessings on our friendship for yet another year. I hope that New Year 2022 brings along another year full of happiness, joy and we-time. Happy New Year dearest buddy.
May each and every day of the coming year glow with happiness and joy…. May your life be brightened with fresh hope and wonderful opportunities… May you have a great time with your family and loved ones…. Happy New Year to you my dear friend.
I wish that you are showered with the choicest blessings of God…. I wish that you are blessed with an adventurous, energetic and zealous life with your dreams turning into reality…. May you always be happy and smiling…. Sending best of New Year wishes to you.
Let us cheer together for the Happy 2022 which is just about to come. Let us party hard and loosen up to embrace the new times that are soon to knock our lives. Have a rocking New Year.
Leave behind why you did not bring Joy, say goodbye to whatever made you cry. I wish you loads of happiness, laughter and smiles this year my friend. Happy New Year.
Let's raise the toast by celebrating the togetherness of friendship. Let our friendship grow young and strong and age as years pass by. Happy New Year dear friend.
With 2022 approaching, it is time to raise a toast to our friendship for the New Year. With another year added to our lives, I wish a warm and Happy New Year to you my dear friend. May you be blessed with success, wealth, health and happiness this year.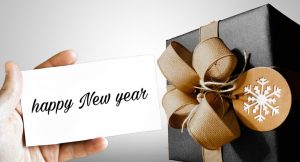 I want to hold your hand tight and feel good to have a great friend like you. You are rare and precious. You stand tall in my life. Happy New Year my dearest friend.
We may not always be communicating with each other, but we share a strong bond of friendship that keeps us connected by our hearts each day of the year. Happy New Year my friend.
You always stood by me. You know me inside out. I want to thank you for being a great friend in my life. Hope our friendship grows strong day by day and year by year. Happy New Year dear friend.
Every celebration is incomplete without friends and so is the happiness of 2022. Wishing you a wonderful Happy New Year filled with new hope and opportunities. I hope that our friendship grows beautifully this year.
Let the joys multiply, let the happiness get doubled, let the sorrows vanish, let the year of 2022 be the most amazing time of our life. Wishing you a very Happy New Year my dear friend. God bless us all.
Read Also : Parsi New Year Wishes 2022
Read Also : Merry Christmas Wishes in Hindi
Read Also : Christmas Wishes for Grandparents In English
Read Also : Instagram Captions For Hanukkah 2021
Read Also : Human Rights Day Messages 2021